4D3N

AMAZING MULU

PINNACLES
SPECIAL RATES FOR

DOMESTIC MARKET ONLY
UNTIL 30 DEC 2020!
Minimum

3 DAYS

advance booking
Check out the journey of DBStory with 2 strangers in conquering Mulu Pinnacles!
Check out also a wonderful video from one of our guests:
Visit to the show caves of Mulu; Lang's and Deer Cave , Wind and Clearwater Cave. See the exodus of bat flight out from Deer Cave, interesting boatride along the Melinau river to Long Lutut and a beautiful trek through the rainforest of Borneo.
Overnight at Camp 5 before we climb the Pinnacles.
Accommodation Options: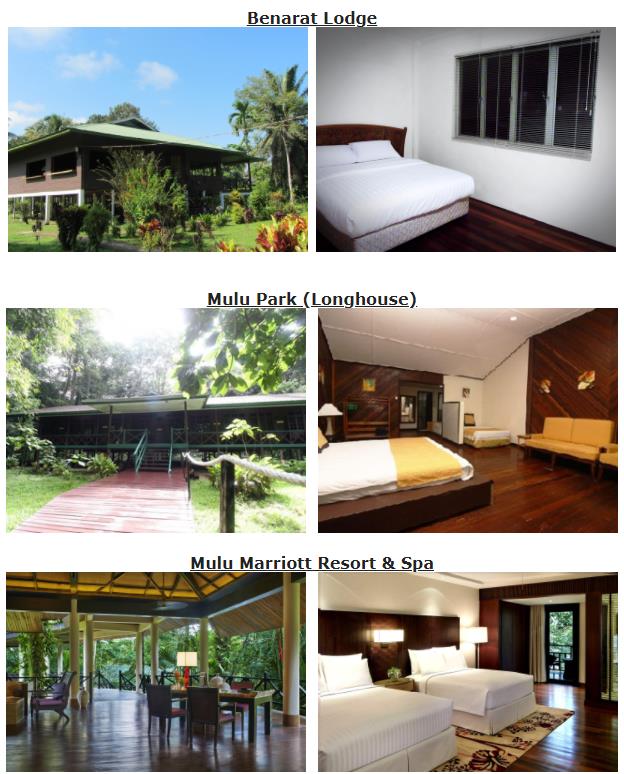 FLIGHT SCHEDULE (EFFECTIVE FROM 1 AUG 2020 - 24 OCT 2020)
**Flights are subject to change, please inquire with us in advance!
MIRI - MULU - MIRI
| SECTOR | FLIGHT | FLIGHT TIME | FREQUENCY |
| --- | --- | --- | --- |
| MIRI - MULU | MH 3630 | 1015 - 1045 | Tue, Fri, Sun |
| MULU - MIRI | MH 3631 | 1110 - 1145 | Tue, Fri, Sun |
KUCHING - MULU - KUCHING
| SECTOR | FLIGHT NO | FLIGHT TIME | FREQUENCY |
| --- | --- | --- | --- |
| KUCHING - MULU | MH 3752 | 1230 - 1410 | Mon, Thu, Sat |
| MULU - KUCHING | MH 3753 | 1025 - 1205 | Mon, Thu, Sat |
KOTA KINABALU - MULU - KOTA KINABALU
| SECTOR | FLIGHT | FLIGHT TIME | FREQUENCY |
| --- | --- | --- | --- |
| KOTA KINABALU - MULU | MH 3251 | 0900 - 0955 | Mon, Thu, Sat |
| MULU - KOTA KINABALU | MH 3252 | 1430 - 1535 | Mon, Thu, Sat |
Day 1: This morning we depart on MASwings flight to Mulu National Park. We then meet the guide and transfer to your accommodation for check in (for morning arrival only). We proceed by van to Park HQ. Take the plank walk to visit DEER CAVE, one of the biggest cave passages in the world. Close to Deer Cave is LANG'S CAVE, small but beautifully decorated. In the evening we will wait at the entrance to Deer Cave, where thousands of bats emerge most evenings to hunt for insects over the forest. We then return late in the afternoon to Park HQ and transfer your accommodation for dinner and overnight. (**Lunch, Dinner)
Day 2: After breakfast we depart by longboat at 0830hrs to the source of the Clearwater River. We first stop at Batu Bungan Penan Settlement for a short excursion of the settlement. You are able to see the hand made handicraft like baskets, bangles, mats by the Penan tribe. From there we go by boat to visit WIND CAVE with unusual calcite formations, including the tall, slender stalagmites in King's Room. Just a few hundred meters upriver lies CLEARWATER CAVE where you have to climb 200 steps to the cave's main entrance; visit the Lady's Cave and the underground river. The pool at Clearwater Spring is a nice place to swim and picnic. After lunch we go by boat beyond Clearwater Cave. From Long Lutu, an easy 3 hrs walk through virgin forest bring us to a Park hut on the bank of the MELINAU RIVER where it leaves the MELINAU GORGE. We overnight at Camp 5 (Breakfast, Lunch, Dinner)
Day 3: The limestone mountains of Mulu are bedecked with sharp needles: the biggest and best examples, "THE PINNACLES", are on the north end of GUNUNG API mountain. Early breakfast and this morning we climb over 1000m up the steep path to a viewpoint overlooking the Pinnacles (the steepest sections have aluminum ladders for safety). If the weather is good, the four hour climb will be rewarded with wide views over the forest to Brunei and the South China Sea. Return to Camp 5 for another overnight stay. (Breakfast, Lunch, Dinner)
Day 4: This morning we return on foot to Long Lutut and by boat down the Melinau River to Mulu airport for your flight departure. (Breakfast)
* Please click "Book Now" and select whether to stay at Benarat Lodge OR Mulu Park (Longhouse), and choose whether to fly from Miri, Kuching or Kota Kinabalu
** No lunch on Day 1 if flight arrives in the afternoon.
*** Dinner on Day 1 will be at Sg. Pala Restaurant for Benarat Lodge & Mulu Park.
***** CAMP 5 may be full. Please check with us first.
RM25 per nite for mosquito net and RM25 per nite for blanket can be rented from Camp 5. If you wish to save a bit, you may also use your towel as blanket and bring along a long sleeve shirt to wear during the night. Do bring along mosquitoe repellent as well.
Validity Date :8/1/2020 ~ 12/31/2021
Minimum Person :2
Adult Price: MYR 999.00
Child Price: MYR 999.00
Duration: 4 Days 3 Nights
* All amount quoted above will be charged in Ringgit Malaysia (MYR)